Winner: Eric, followed by Frank the sports guy, Rosebud, Carole St. Martin, and Droppin'
Eric was able to barely hold off a posse of 4 players who closely trailed him throughout the game. Naturally tonight's theme was Halloween and his knowledge that Dracula means "son of the devil" may have made the difference.
Mistress Daphne was replaced by Wanda, the wicked witch, as moderator tonight. My goodness, she was scary looking.
Rosebud and Pluto, recently returned from their tour of the Iberian Peninsula, served up some fine Portuguese Port, a nice taste to finish the evening.
Good Question!: In which country did Halloween originate?
Choices: a. Germany  b. Ireland  c. France  d. Romania
Answer: Ireland
This fooled most of us. When we think of Ireland we think of St. Patrick's Day and fun and good spirits.
But there's a fine story here, and it makes sense, once you learn the history.
To find the origin of Halloween, you have to look to the festival of Samhain in Ireland's Celtic past.
The festival of Samhain is said to be over 2,000 years old and used to celebrate the passing from summer to winter. The Celts believed that during the festival of Samhaim the veil between this world and the next world was particularly thin, allowing spirits to pass between the two worlds on this night.
Many of our Halloween traditions like dressing up and pumpkin lights came from this Celtic festival.
Keeping the Evil Out
Folks disguised themselves using animal skins to protect against evil spirits on the prowl. People wore masks. They did this to confuse the spirits and hide from people who disliked them.
To keep the evil at bay during Samhain, bonfires would be lit. Animal bones were burnt in the fires; hence the origin of the name, 'bone-fire'. Households would also carve scary faces into turnips and leave it at the doorstep to ward off evil spirits.
In early 20th century Ireland, trick or treating was known as 'guising' – rural people dressed up in straw masks and went visiting their neighbours. They would walk from house to house without speaking, to try to conceal their identity, just for fun.
Ireland's best Halloween party is in Derry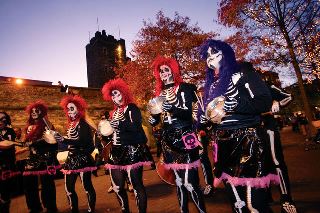 While the origin of Halloween doesn't lie specifically in Derry, the world's biggest Halloween party is held in that city every year. More than 30,000 people take to the streets, most of them dressed as witches, ghouls, vampires and monsters from the Otherworld.
It's a time when you're almost certain to hear the Banshees screaming – assuming you can hear anything much above the marching bands, ceilidh music, hard rock and calypso as the carnival proceeds through the town. A spectacular fireworks display brings celebrations to a close.
Can't think of Halloween without thinking of any one of the 11 movies, including this year's: